The Wizarding World of Harry Potter at Universal Orlando
Hey Harry Potter Fans! Have you been to The Wizarding World of Harry Potter (WWHP) at Universal Orlando yet? It's an epic world, beautifully themed and very immersive. There are restaurants, rides, shops and you can even ride the Hogwarts Express!
---
Looking for a great travel community on Facebook? Come join us! If you'd prefer to get your travel news straight to your inbox once a month, subscribe to my newsletter (I promise not to sell your email address). If you're ready to book your next vacation, you can get a quote today!
---
For you Orlando theme park newbies, Universal is not part of Disney. Your Disney World tickets will not get you into the Universal parks and vice versa. So if you're a Harry Potter fan and Universal is a must do, we'll need to add Universal tickets to your budget.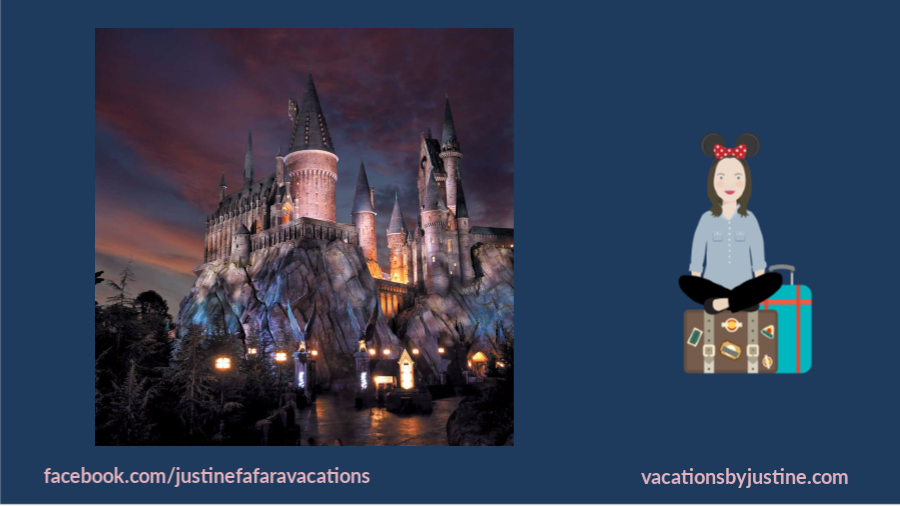 What is there to do at WWHP? SO MUCH! WWHP is actually on both of Universal Orlando's two theme park islands: Island of Adventure (IA) and Universal Studios (US). I've listed out all the rides, shops, restaurants and entertainment below, specified which park it's at and linked to more info on the Universal website!
Rides
Shops
Restaurants
Entertainment
Vacation Package
For the biggest Harry Potter fans, Universal offers a Wizarding World of Harry Potter Exclusive Vacation package! This package includes a special, themed keepsake box with a welcome letter, planning guide, character luggage tags, Hogwarts Railways lanyard, breakfast at the Leaky Cauldron, and a photo session at Shutterbutton's with a commemorative DVD photo album and one 8″ x 10″ print. Park tickets to all three Universal parks (Universal Studios, Island of Adventure and Volcano Bay Water Park) are included in the package as well.
This exclusive vacation package can be booked now through December 11th for travel dates now through the end of the year. Let's get your trip booked today!
Find me on Pinterest, Facebook, and Instagram.
Email me with any questions.
Get a vacation quote today.
Subscribe to my newsletter.
You may also like
5 Reasons to Use a Travel Agent
How Much Does a Magical Honeymoon Cost?
When to book your Disney vacation

You may also like
5 Reasons to Use a Travel Agent
How Much Does a Magical Honeymoon Cost?
When to book your Disney vacation